How to test your TEE Ultrasound Transducer Leakage Current
By: Nik Zaidi Nik Bulyamin
TEE = Transesophageal Echocardiography is employed to diagnose certain cardiac diseases and condition. TEE Allows the physician to detect subtle findings within the heart. By positioning the transducer in the esophagus, which is just behind the heart, there is elimination of usual barriers to ultrasound created by the chest wall or lung fields. This allows enhanced resolution compared to standard imaging methods. this test is frequently ordered for assessment of valvular diseases, aortic disease, endocarditis and cardiac source of emboli.
Problem: Because of its proximity to the heart when the TEE transducer has been properly positioned, the electrical insulation integrity of the transducer becomes of paramount concern. A transducer in which the electrical integrity has been compromised in any way can present a significant level of danger to the patient in the form of microshock hazard. Voltage levels within the transducer head are sufficient to create electrical leakage levels in excess of 100 µamps through the compromised insulation barrier, thus putting the patent at significant risk. 
Implication: Excessive leakage current is capable of producing a microshock hazard, thus causing ventricular fibrillation, and possibly leading to total cardiac arrest.
Prevention: Leakage current levels from the TEE transducer should be routinely tested. Ultrasound transducers (especially TEE transducers) should ideally be tested at the beginning of the day (prior to the first patient procedure), and between individual patient diagnostic procedures. This can be easily and quickly accomplished during the normal cleaning procedure for the transducer.
The electrical leakage current in the probe can alternatively be measured in a simplified test without the access to the ultrasound scanner, by using the procedure described below. The test described below is not a complete safety test. It is focused on the most important insulation test for this product. 
The electrical leakage current test should be performed on the TEE transducer after taking it out of the box and prior to each exam, alternatively, if the bite-hole inspection test is done prior to each exam, then the electrical leakage current test should be done yearly at a minimum.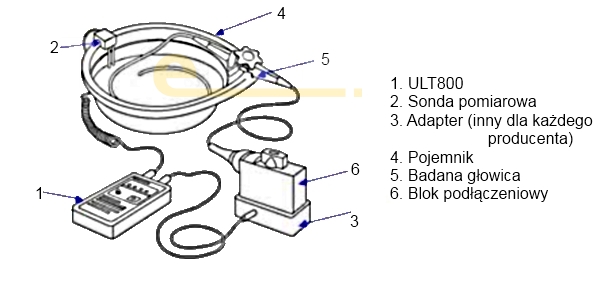 Tester available in market:
Clicks at